One of the First Large-Scale, Grid-Connected Solar Projects on the Airport Island
Solar System Total Capacity of
160 kWp
Estimated Annual Income from FiT Scheme of HK$640,000
PV Panels are Among First on Airport Island
Hong Kong Air Cargo Terminals Limited (Hactl) has a goal of becoming an environmentally responsible and sustainable air cargo terminal. As a pioneer in solar energy solutions in Hong Kong, CLPe installed 516 photovoltaic (PV) panels and launched a 160kWp Monocrystalline PV System for Hactl in 2019 to provide it with a clean, renewable power source.

The solar system is one of the first large-scale, grid-connected projects in support of CLP Power's renewable energy Feed-in-Tariff (FiT) Scheme on Hong Kong's airport island. CLPe provided Hactl with a comprehensive service that included system design, supply, construction, testing and commissioning, operations and maintenance, and FiT Scheme applications.
Challenges and Solutions
Nuisance to Planes from Solar Panel Reflections

Pilots can be distracted by the glare from solar panels. To prevent this, CLPe used industry-standard simulation software to optimise the way the panels were angled and to control the light reflection to meet Civil Aviation Department requirements.

Limited Installation Schedule

Hong Kong International Airport is one of the world's busiest air cargo hubs, and installation work at Hactl is limited to off-peak times. CLPe streamlined the installation and testing and commissioning process to eliminate the impact on the daily operations of Hactl and the airport.

Safeguarding Against Extreme Weather

Solar panels installed on Hong Kong rooftops must be stable enough to withstand typhoons, particularly in an airport area where loose objects can threaten runway safety. CLPe had the expertise to ensure the solar panels at Hactl complied with the Buildings Department's Code of Practice on Wind Effects in Hong Kong. In addition, to avoid the panels being flooded in heavy rain, space was left between the solar panels' concrete base and the ground so water could flow underneath. This measure demonstrated how CLPe can tailor its work to meet the specific needs of customers.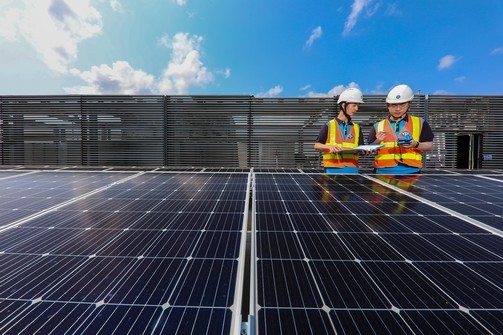 Value Created for the Customer
Raising Client's Green Profile

By creating the solar system, CLPe helped Hactl to enhance its efforts to become more sustainable and to contribute to environmental conservation. The system also serves as an example for other businesses in the air cargo industry, encouraging them to fulfil their corporate social responsibilities.

Generating Revenue

CLPe provided Hactl with an all-in-one solar solution and helped it apply to join the FiT Scheme. The solar system revitalised the rooftop area of Hactl building, and is expected to generate an annual income of HK$640,000 through the FiT Scheme.

An Easy-to-Access Solar System Management Platform

CLPe provided a renewable energy management platform to enable Hactl to monitor and operate the solar system anytime from anywhere. All the data collected from on-site inverters is transmitted to the cloud for analysis, allowing our client to retrieve the information at any time through a customised digital display or even on a mobile device.