Annual Energy Savings of over HK$560,000
Payback Period as Short as Less Than A Year
Successfully Locating Root Causes of Energy Waste
Intelligent Solutions for Air Flow Issues
In a rapidly-changing world of commerce, advanced technology offers intelligent new ways to save energy. Computational Fluid Dynamics (CFD) simulation provides insights into hidden problems related to air flow and suggests optimal solutions to deal with the issues.

CLPe provides a specialist CFD consulting service which works in three steps: 1) Diagnosis of air flow patterns in air-conditioned spaces. 2) Evaluation of the effect on temperature and flow speed within the subject area. 3) Identification of potential energy-saving opportunities.
Saving Energy as Effectively as Data
CITIC Telecom International Holdings Limited (CITIC Telecom) engaged CLPe in 2017 to examine the possibility of saving energy in one data hall of its data centre by optimising the existing system design of conditioned air flow.

There were around 200 server racks in the data hall under study, operating 24 hours a day. CLPe carried out a CFD study in which it recreated the airflow in a computer simulation, identified hot spots, and considered the impact of adjusting the air supply as well as ways to reduce the risk of short circuits.

A total of 11 scenarios were simulated using information from CITIC Telecom as well as field measurements conducted by CLPe before a report with suggestions for energy saving was presented to the client.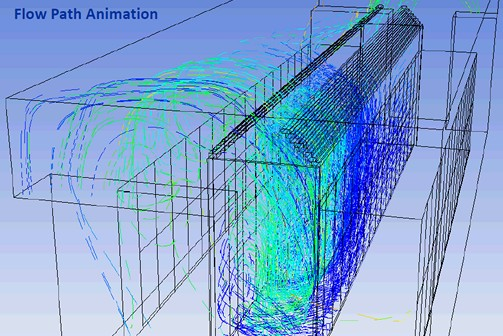 Challenges and Solutions
Difficulties of Calculating Air Flow

Pre-simulation design in the CFD process is an abstract task as air flow cannot be visualised. A professional simulation tool named ANSYS was therefore employed, coupled with site measurements, to collect data on air flow rate, thermal images, temperature, humidity, and air flow direction. More than 1,700 datapoints were designed to ensure the precision of the simulation and validity of the model for numerical analysis.

A Round-the-Clock Operation

Data centre designs are different from those of most of the commercial and industrial buildings. They are also high-demand users, operating 24 hours a day. Specialist knowledge on data centres therefore had to be sought for the CFD study.

Intricacies of Data Centre Computers

The data centre server racks were equipped with different power loading factors, leading to a certain levels of temperature discrepancy and air flow demand between different racks, even in the same data centre hall. Calibrated thermal imagers were used to record the surface temperature of the racks and collect the power data to achieve maximum precision.
Value Created for the Customer
Energy Savings

By analysing the air flow pattern of the server room, CLPe suggested ways to improve the energy efficiency of CITIC Telecom's data centre with an anticipated payback period of less than one year. CITIC Telecom implemented the measures to good effect.

Tailor-made Solutions

The CFD team at CLPe has handled a variety of projects in different industries since it was established in 2014. Drawing on its extensive experience in simulation and site measurements, it has drawn up tailor-made energy-saving solutions to meet a broad range of needs and demands.