Provide Comprehensive Consulting and Engineering Services for EV Charging Infrastructure at Various Building Locations across Hong Kong
Completed EV Charging Infrastructure Installation at Diverse Site Conditions from New and Old Existing Buildings
Electric Vehicle Charging Infrastructure Design & Installation for Smart Charge
Smart Charge (HK) Ltd. ("Smart Charge"), a joint venture by HKT and CLP Holdings, addresses the entire process of charging electric vehicles (EV), providing high-quality and reliable service at various car parks, housing estates and commercial buildings in Hong Kong. CLPe has been engaged by Smart Charge to offer consulting and engineering services since its launch in 2016. Over the past 3 years, CLPe has provided EV charging installation services from conducting site visits, preparing the feasibility and technical report, installation of EV charging infrastructure to inspection & maintenance works for Smart Charge.
Challenges and Solutions
Diverse Installation Site Conditions

Some parking venues were located in old existing buildings and the power capacity of the electrical supply was insufficient for adopting EV charging infrastructure, along with many other site difficulties such as aging electrical equipment. We leveraged our strong background in the electrical industry to extensively study the building's electrical system and electricity consumption behaviour, in order to advise a technically feasible way for installing EV charging facilities.

Minimising Impact During Installation

Electrical power supply must be switched off for safe EV charging infrastructure installation. To minimise the impact on daily operations of the carpark & tenants, we carefully coordinated with different parties involved in the installation work and arranged the installation, test and commissioning process during off-peak times.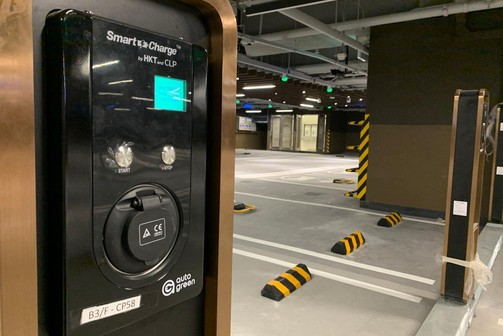 Value Created for the Customer
Comprehensive Engineering Services

CLPe provides comprehensive engineering services to Smart Charge on EV charging infrastructure, covering project management, electrical engineering design, and inspection & maintenance support. CLPe also provides design & technical advice on the installation and maintenance of the EV charging infrastructure.

Promoting Green Driving

With the installed EV charging infrastructure, CLPe closely supports Smart Charge in encouraging the public to adopt a more environmental-friendly lifestyle by supporting green driving. The increased availability and ease of access of EV chargers brings convenience to many EV users in Hong Kong, and at the same time enables them to enjoy a safe and reliable charging service in any instance.