More than 20 Years of Experience in Inspections and Improvements
Carrying out Essential Safety Tests Required by the Hong Kong Government
Special Skills to Perform Periodic Tests on Solar Systems
Comprehensive Inspection and Testing of Solar System
The Kadoorie Farm and Botanic Garden in Hong Kong is committed to conservation and sustainability and has a solar system to help support its operations. CLPe provided end-to-end consulting and engineering services on the solar system in 2018 and 2019, conducting the periodic test for fixed electrical installations and carrying out on-site testing, measurement, and repairs needed for a certificate to be issued to the farm and to the Electrical and Mechanical Services Department confirming the system fulfils safety requirements.
Challenges and Solutions
Specialist Skills Needed to Test Solar Systems

Carrying out safety tests on solar systems such as the one at Kadoorie Farm requires different skills to those needed to examine conventional power systems. CLPe specialists are familiar with solar systems and have extensive experience in testing and inspecting them.

Isolating Solar System During Inspection

CLPe usually coordinates with the client and the utility company to arrange a time for an electricity shutdown to carry out periodic testing work. Because of the nature of a solar system however, the circuit remains live even after the electricity supply is suspended and the isolation point of the solar circuity must be identified before work can begin. CLPe specialists are familiar with the isolation procedure and were able to handle it safely and effectively.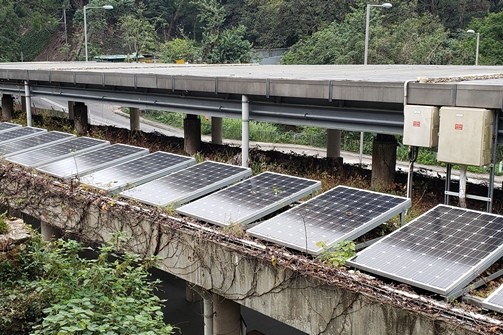 Value Created for the Customer
Meeting Government Safety Requirements

Under Government regulations to ensure system safety, electrical installations with an approved loading exceeding 100 amperes must be inspected, tested, and certified at least once every five years. CLPe is a registered electrical contractor with more than 20 years of experience in periodic testing works and a team of engineers with certified expertise in the discipline, assuring clients of high-quality work conducted in a reliable and safe manner.

Instant On-Site Solutions

If any defect is identified during inspections, CLPe can provide rectification services or enhancement suggestions to address the issues. In the Kadoorie Farm project, for instance, it provided enhancement measures including rewiring and replacing of switches.