Created with 755 Enclosure Lights
Using 9.5 km of Power Cable and Trunking
Designed with Expert
Lighting Simulation
Lighting System for Tuen Mun Road
A 4.5 km town centre section of Tuen Mun Road was widened from a two-lane to a three-lane carriageway in a Highways Department improvement project in 2013. CLPe was responsible for the design and build of the lighting system in the noise-reduction enclosure under the main contractor, China Harbour Engineering Company Limited (CHEC).
Challenges and Solutions
Changing Light Levels Within the Enclosed Area

The area of road in the noise-reduction enclosure features translucent panels that let in outside light with ever-changing levels of luminous intensity according to the weather conditions through the day. This meant that complex lighting planning and design was needed for this project.

With its extensive experience in lighting systems, CLPe specialists conducted a spectrum of software simulations for diverse outdoor weather and sunlight conditions to fulfil the stringent enclosure lighting requirements of the Highways Department.

CLPe also launched a real-time control system to adjust the artificial light intensity in the noise-reduction enclosure in order to maintain the light intensity contrast between outdoor light and artificial light at each end of the enclosure to ensure traffic safety.

A Challenging Project Schedule

Busy Tuen Mun Road remained in use throughout, meaning the time slots for installation were reliant upon CHEC's temporary traffic arrangements. CLPe carefully planned its workflow to shorten on-site installation time and closely monitored the schedule to be certain the works went smoothly.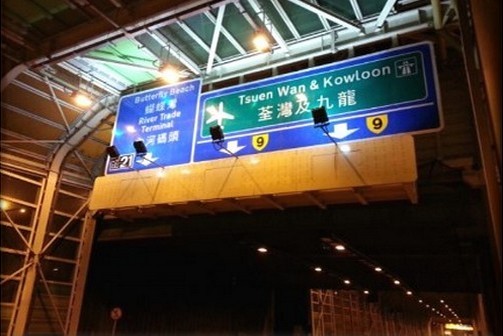 Value Created for the Customer
A Significant Cost Saving

The original design for the project was prepared according to the Public Lighting Design Manual of the Highways Department and proposed that around 1,200 lights should be installed in the noise-reduction enclosure. CLPe re-visited the design, taking into account the presence of natural daylight through translucent panes, and prepared a design that saved costs by decreasing the number of lights to 755 without in any way compromising lighting quality.

Road Safety

After a comprehensive simulation process, the noise-reduction enclosure lighting was proved capable of adapting to different weather conditions both during the daytime and at night, eliminating the impact on driver visibility and ensuring road safety.