CLPe Solutions offers seamless one-stop services to help customers deploy their solar power systems. Our expertise covers a wide range of applications, including commercial buildings, shopping centres, schools and residential buildings. Our systems convert solar energy into electricity to support the energy needs of your premise, or to allow customers to connect back to the grid and in return earn full feed-in tariff (FiT) payments.

Our comprehensive services cover feasibility studies, system design, shading analysis, supply, construction, test & commissioning, operations & maintenance, and FiT applications.
Why Choose Us
CLPe Solutions is a pioneer in providing solar PV Solution in Hong Kong. We have successfully delivered many iconic projects, including one of the first two floating PV systems in Hong Kong. We have tailor-made solutions for customers across a wide range of industries, including schools, government buildings, infrastructure facilities, and more. As a wholly-owned subsidiary of CLP Holdings with over 30 years experience in energy solutions, our inborn technical resources and competency in both electrical and power engineering means that we have the expertise to deliver industry-leading solar PV systems.
CLPe Solutions provides a wide range of commercial solutions to its customers, catering various customer needs; and the solutions come in the form of 'Investment model' and 'Turn key Solution'. In the 'Investment model', customers will be the project owner and CLPe Solutions invests in the solar PV system; as the owner, customers earn FiT revenue and pay a service fee to CLPe Solutions for the service in making the FiT revenue available. For the 'Turn key Solution', CLPe Solutions offers engineering, procurement and construction (EPC) services to customers to build a solar PV system; customers own the project and equipment as well as the full FiT revenues.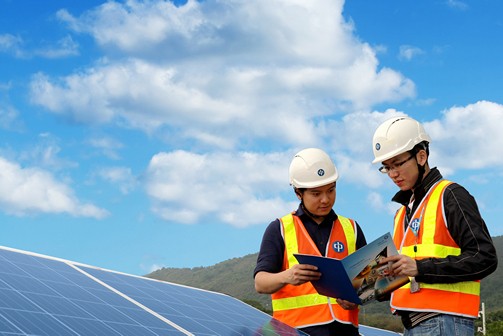 Benefits to Customer
Utilising free solar power to generate extra electricity can help customers achieve their environmental and energy efficiency goals, or also to generate revenue through the feed-in-tariff (FiT) scheme. After deployment CLP will buy the electricity generated by the renewable energy system at a FiT rate.
Key Features
CLPe Solutions provides the following services:
Feasibility Study

Conduct a feasibility study to identify the project scope so customers can have a better picture of the project.

Design Supply

Supply a design to the customer for easy visualisation.

Installation

Install the project according to an agreed plan.

Quality Control

Offer uncompromising quality control with safety as our first priority.

Test & Commissioning Service

Test the system to ensure the solution has been completed in accordance to design.

Maintenance

Provide maintenance service to keep the system in good shape.

FiT Application

Render assistance in the FiT application process to help customers generate revenue from the solar system.

Monitoring System

Provide an energy management platform enabling a dashboard portal to monitor the performance of the solar system. Users can then view real-time statistics on a mobile app, website or a local display.
Key Considerations
If you are considering installing solar panels on the roof of your premises, here is a list of items to check:
Roof Top Owner

You must at least have access rights and relevant approvals to make installations on the roof of your premises.

Area of Roof

The total area of your roof and the area where you would like to install solar panels will determine how much energy you can generate.

Material of Roof

Your choices of solar panel system may vary depending on the material used in the structure of your roof, such as glass, concrete or metal.

Orientation of Roof

The solar potential is higher if the roof faces the direction of the sun throughout the day.

Size and Shape of Roof

The tilt, orientation and size of the roof will affect the amount of solar generation.

Shading of Roof

It is essential to check if there is any obstruction of the sunlight to the designated roof, as shading may affect the optimal power output.

Feed-in Capacity

To connect to the grid, the low voltage system of the customer's building must have sufficient off-take capacity.

Safety and Legislation

Customer shall comply with all applicable laws and regulations for the solar system installation.
Whether you are interested in installing a solar system or want to increase the efficiency of your existing system, our experienced team is here to help, please contact us at [email protected] or 73066099.