CLPe offers one-stop electric vehicle (EV) charging solutions and expert support to help clients reach their environmental goals of zero emissions. To promote green driving and make Hong Kong a greener, smarter and more sustainable city, we offer EV charging solutions that give drivers access to fast, convenient and reliable charging.
Why Choose Us
We provide hassle-free, one-stop EV charging solutions for a wide range of customers. We have built a reputation for reliability through our wealth of knowledge in electricity infrastructure and power management systems. As one of the largest players in the EV charging market in Hong Kong, our expert engineers will work with you throughout the entire process to provide quick installation times and overall peace of mind. No matter what scale is required, CLPe has the expertise to make it happen.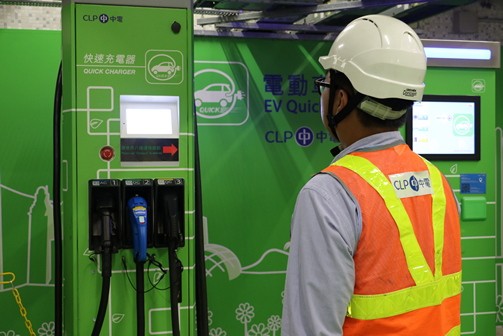 Benefits to Customer
CLPe EV Charging Infrastructure Solutions can add value to any carpark, along with time and cost savings, environmental benefits and convenience, all backed by our industry-leading expertise in design, supply, installation, testing & commissioning and maintenance.
Key Features
CLPe Solutions provides the following services:
Customised charging solutions.

Convenient and flexible EV charging services for any scale of private and public premises.

Comprehensive operations and maintenance services.

24/7 on-demand emergency service.